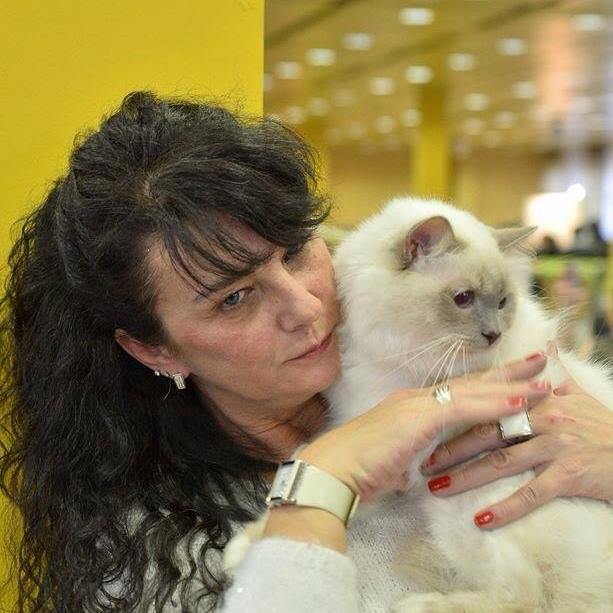 My name is Ildikó, I was born in 1966. I originally graduated as a teacher of English language and literature, translator and interpreter. I have always adored cats even in my former lives.

The Lyrene Cattery
In the summer of 2012 I had the idea of starting breeding cats. The Sacred Birman had always been my passion and when I got down to searching I was surprised to see that this breed is extremely rare in Hungary, this made me decide to pursue my passion and establish a Birman Breeding Cattery. I managed to find a wonderful blue little girl, Mya, who was the founder of the Lyrene Dynasty.
I do almost all activities around our cattery, whilst not giving up my original profession. The cats and the kittens live with me. Life with them as family gives me the opportunity to watch and know them as individuals. They live as family with me from birth to when they leave for their forever home They are loved as family members. This creates wonderful confident cats who are at ease with people and settle quickly into a new home environment.
I do not and will not strive to collect heaps of show titles. Firstly, I don't think titles have too much impact on the quality of the kittens. Secondly, it is not an organic part of a cat's life to be bathed, brushed and watched by lots and lots of people whilst crouching in a cage for 1-2 days.
My prime motivation with the cattery is to breed healthy, bewitching and wonderful kittens who become the pride and joy of their future forever loving families. Many of my kittens are of show quality due to their exceptional breeding lines, I am happy for a quality kitten to go to a loving home and not be used as a Stud or Queen, I do not inflate their prices on potential. I am happy to sell to other breeders to strengthen their lines but need to be assured my kittens will be well cared for and not bred to excess.
Sadly, these days the quality of breeders and back yard breeders vary enormously. A quality breeder will provide pedigrees of the kittens born from already pedigree parents, have them vaccinated, dewormed and never let a kitten move before the age of 12 weeks. Queens are mated maximum 3 times per two years but better just once a year. (Even with the Birmans who are well-known for being not very prolific with litters of 2 quite often.) These are roughly the basic requirements. Breeders try to get to know the future owners, even with a visit and follow their kittens' lives, which is not an easy task after a few years as the numbers grow. Breeders base their entire wok on deep respect of the breed to direct the lines towards even healthier and more gorgeous cats. This needs a lot of genetic studies to establish mating plans that serve this purpose – by drawing genetic matrixes long into the night. Choosing a new addition to the cattery is preceded by a thorough research by investigating into all the aspects – health records for the most ancient predecessors possible, parents' temper, colours (diluted and carrier too!), genetic matrixes of the possible progenies, etc. etc.
As a member of an international cat federation, I carry out my activities in strict observance of the FIFE breeding regulations giving the greatest care to my cats. I breed Birmans for passion and not as a financial resource.
My aim is, based on my studies at the PawPeds Academy, to achieve excellence in my line and breeding standard, whilst continuously working on establishing a reputed and recognized cattery.
I am here to support new owners and love the regular updates I get on my precious kittens' progress. Watching them grow into healthy and happy cats is something that gives me enormous pride and happiness.